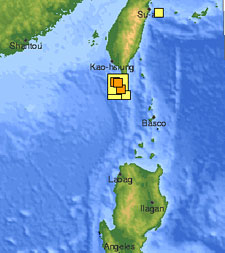 news on sina.com.cn, in which China Telecom, one the biggest ISP in China, release an official statement( with my rough translation)

中国电信称,据我国地震台网测定,北京时间12月26日20时26分和34分,在南海海域发生7.2、6.7级地震。受强烈地震影响,中美海缆、亚太1号、亚太2号海缆、FLAG海缆、亚欧海缆、FNAL海缆等多条国际海底通信光缆发生中断,中断点在台湾以南15公里的海域,造成附近国家和地区的国际和地区性通信受到严重影响。

China Telecom has confirmed that, according to China institute of earthquake monitoring, at Dec 26, 20:26-20:34 Beijing Time, 7.2 and 6.7 magnitude earth quake have occurred in the South China Sea. Affected by the earthquake, Sina-US cable, Asia-Pacific Cable 1, Asia-Pacific Cable 2, FLAG Cable, Asia-Euro Cable and FNAL cable was broken and cut up. The break-off point is located 15 km south to Taiwan, which severely affected the International and national tele-communication in neighboring regions.

据悉,中国大陆至台湾地区、美国、欧洲等方向国际港澳台通信线路受此影响亦大量中断,国际港澳台互联网访问质量受到严重影响,国际港澳台话音和专线业务也受到一定影响。

It was also reported that communication directed to China mainland, Taiwan, US and Europe were all massively interrupted. Internet connection to countries and region outside of China mainland became very difficult. Voice communication and telephone services were also affected.

中国电信称,受余震影响,抢修工作遇到较大困难,加之海缆施工具有一定难度,预计影响还将持续一段时间。

China Telecom has claimed that due to the aftershock of the earthquake, the repairing works would be very tough. In addition undersea operation is also not easy to handle with. So this phenomenon is going to exist for certain period.
This really throws the notion of "cyberspace" into the physical world. My sympathies to everyone affected. Hope they figure out how to fix those cables quickly.
UPDATE: Xeni just picked this up on Boing Boing and linked to the Wikinews article and to the image above.