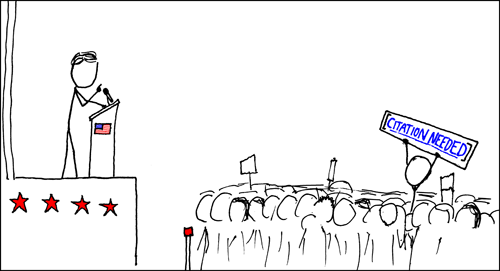 Copyright xkcd CC BY-NC

Back when I first started blogging, the standard post took about 5 min and was usually written in a hurry after I thought of something to say in the shower. If it had mistakes, I'd add/edit/reblog any fixes.
As my post have gotten longer and the institutions affected by my posts have gotten bigger, fussier and more necessary to protect - I've started becoming a bit more careful about what I say and how I say it.
Instead of blog first, think later - agile blogging - I now have a process that feel a bit more like blogging by committee. (Actually, it's not as bad as it sounds. You, the reader are benefiting from better thought through blog posts because of this process.)
When I have an idea, I usually hammer out a quick draft, stick it in a Google Doc and then invite in anyone that might be able to help including experts, my team working on the particular topic and editors and communications people. It's a different bunch of people depending on the post, but almost everything I've posted recently is a result of a group effort.
Jeremy Rubin, a recent MIT grad who co-founded the Digital Currency Initiative at MIT mentioned that maybe I should be giving people credit for helping - not that he wouldn't help if he didn't get credit, but he thought that as a general rule, it would be a good idea. I agreed, but I wasn't sure exactly how to do it elegantly. (See what I did here?)
I'm going to start adding contributors at the bottom of blog posts as sort of a "credits" section, but if anyone has any good examples or thoughts on how to give people credit for helping edit and contributing ideas to a post or an informal paper like my posts on my blog and pubpub, I'd really like to see them.
Credits
Jeremy Rubin came up with the idea.
I wrote this all by myself.